La Cité Résiliente: A Decade in Transition is a bilingual community-based energy transition project which responds directly to the City of Edmonton's materials on climate resiliency, imagining the possibilities and opportunities for community engagement alongside climate change.
Hear from some of the team and learn more about the project in a special two-part series of the Just Powers Podcast!
Let's prepare Bonnie Doon for climate change
We are inviting you to create a plan to retrofit our community for energy-efficiency and climate resilience. How can we make our neighbourhood ready for the future by retro-fitting and future-proofing our buildings? Could we generate our own power as neighbours? What are the benefits for our community?
Preparing now by reducing carbon emissions means saving money later, but there are so many more possibilities. Be part of the conversation to share what you want for the future of our neighbourhood!
In order for Edmonton to meet its climate targets by 2050, 80% of buildings will need to be net-zero. This project investigates how retrofits can contribute to those targets while investing in just futures. If you're interested in how we can meet these targets through new builds as well, check out our project Sustainable Housing, Sustainable Community.
Read the Report!
Click here to read our final report for the project and learn more about "future-proofing" the La Cité building! Find the French report here.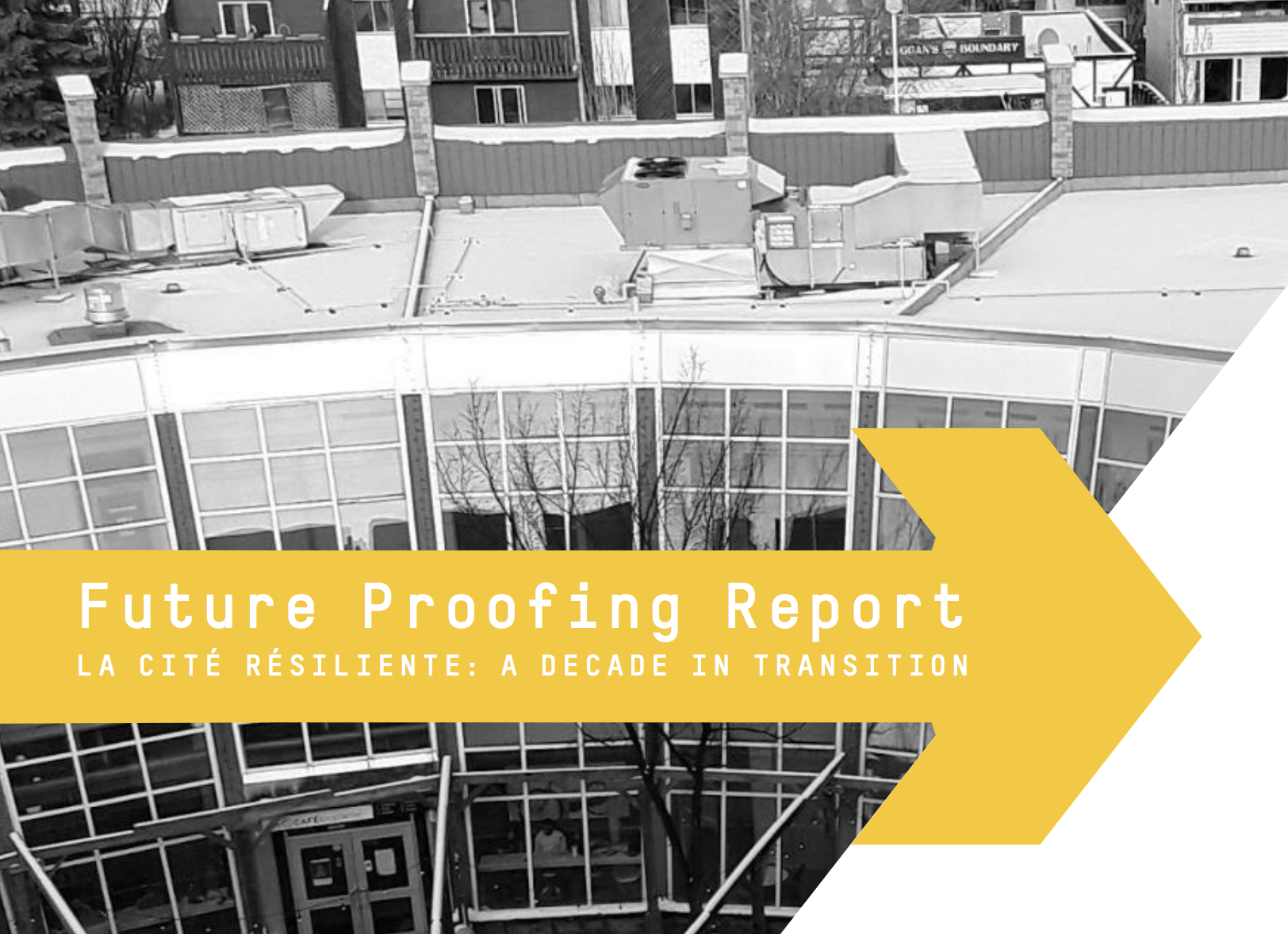 Why partner with La Cité franco?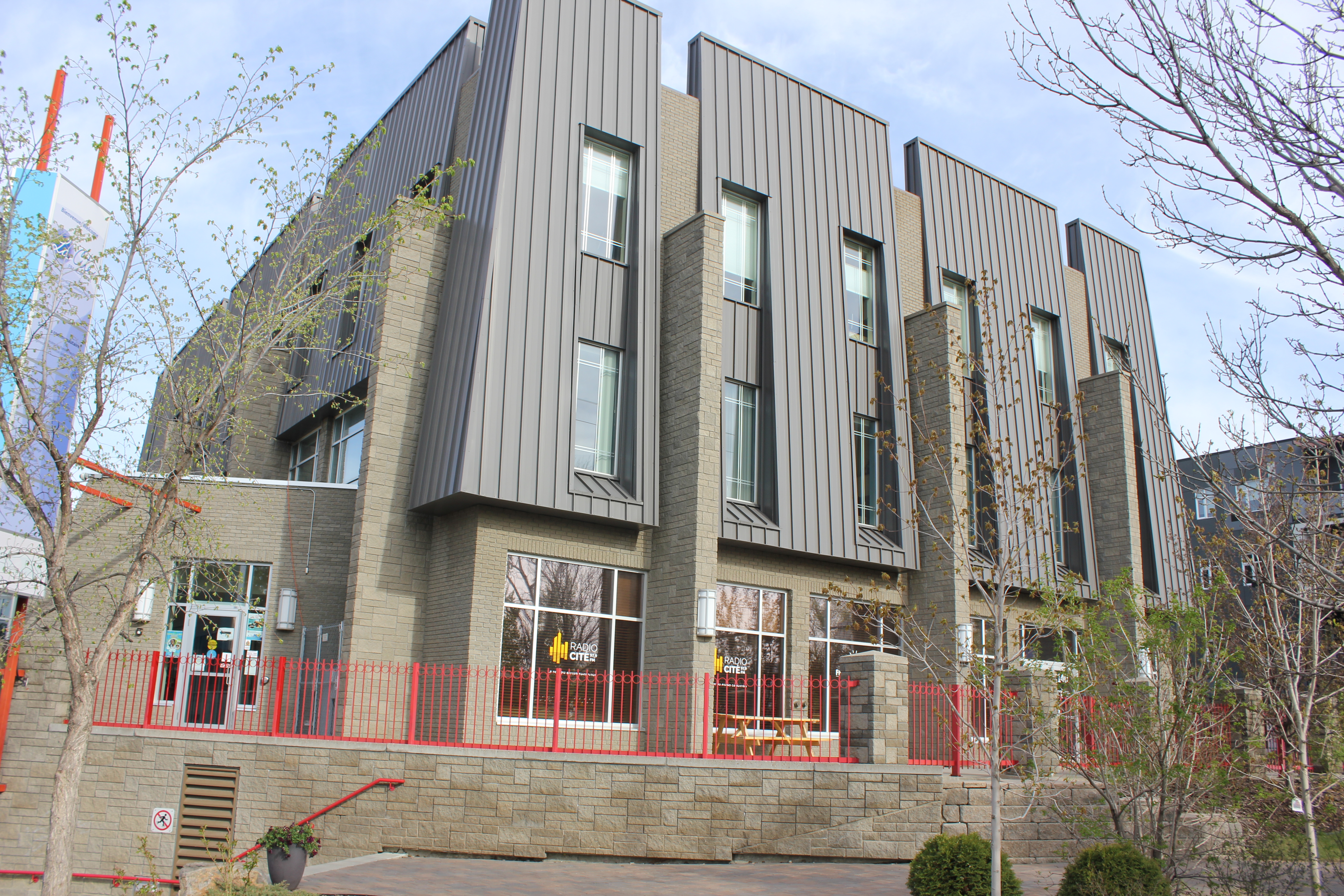 Building on the community spirit and diversity of the Francophone community in Edmonton, La Cité Résiliente: A Decade in Transition empowers Francophone participants and Anglophone Bonnie Doon neighbourhood residents of different ages, ethnic and cultural backgrounds to make localized energy infrastructure modifications to the world-renowned La Cité franco building — home to 38 separate community organizations and the organizing institution behind the popular Flying Canoe/Canoë Volant winter festival. As participants learn the necessary steps to transform the building for climate resilience, they will learn what it means to make infrastructural adaptations to meet a changing world and to address the shifting needs of their vibrant community.
Funded by an EcoCity Edmonton Infrastructure Acceleration Grant with Just Powers and La Cité francophone.
Get involved!
To organize the neighborhood around climate resiliency and energy transition, different workshops and events will be held. Whether you study, live or work in Bonnie Doon, or you're interested in climate resiliency solutions, we look forward to hearing your ideas.
A Facebook group was created as a space for conversation and discussion for the community members.
November 23, 2019: Launch + Learn Workshop with Solar Power Investment Cooperative of Edmonton
December 5, 2019: Energy Fair/Foire de l'Énergie
January 30-February 1, 2020: Installation at Flying Canoë Volant
February 18, 2020: SMART Start Workshop
March 3, 2020: Workshop with Fédération des aînés franco-albertains (FAFA)
March 10, 2020: Building Systems Integration Workshop
POSTPONED UNTIL FURTHER NOTICE March 19, 2020 at La Cité francophone: Weeknight Community Meeting
POSTPONED UNTIL FURTHER NOTICE March 21, 2020 at La Cité francophone: Week-End Community Meeting
Follow Just Powers on EventBrite!
Follow La Cité Résiliente
Stay updated on La Cité's developments and events
Resources
Climate Resilient Edmonton: Adaptation Strategy and Action Plan
Energy Transition Strategy: Building a Climate Resilient Edmonton