Speculative Energy Futures: Prototypes for Possible Worlds Exhibition
December 10, 2019
@
8:00 am
–
January 11, 2020
@
5:00 pm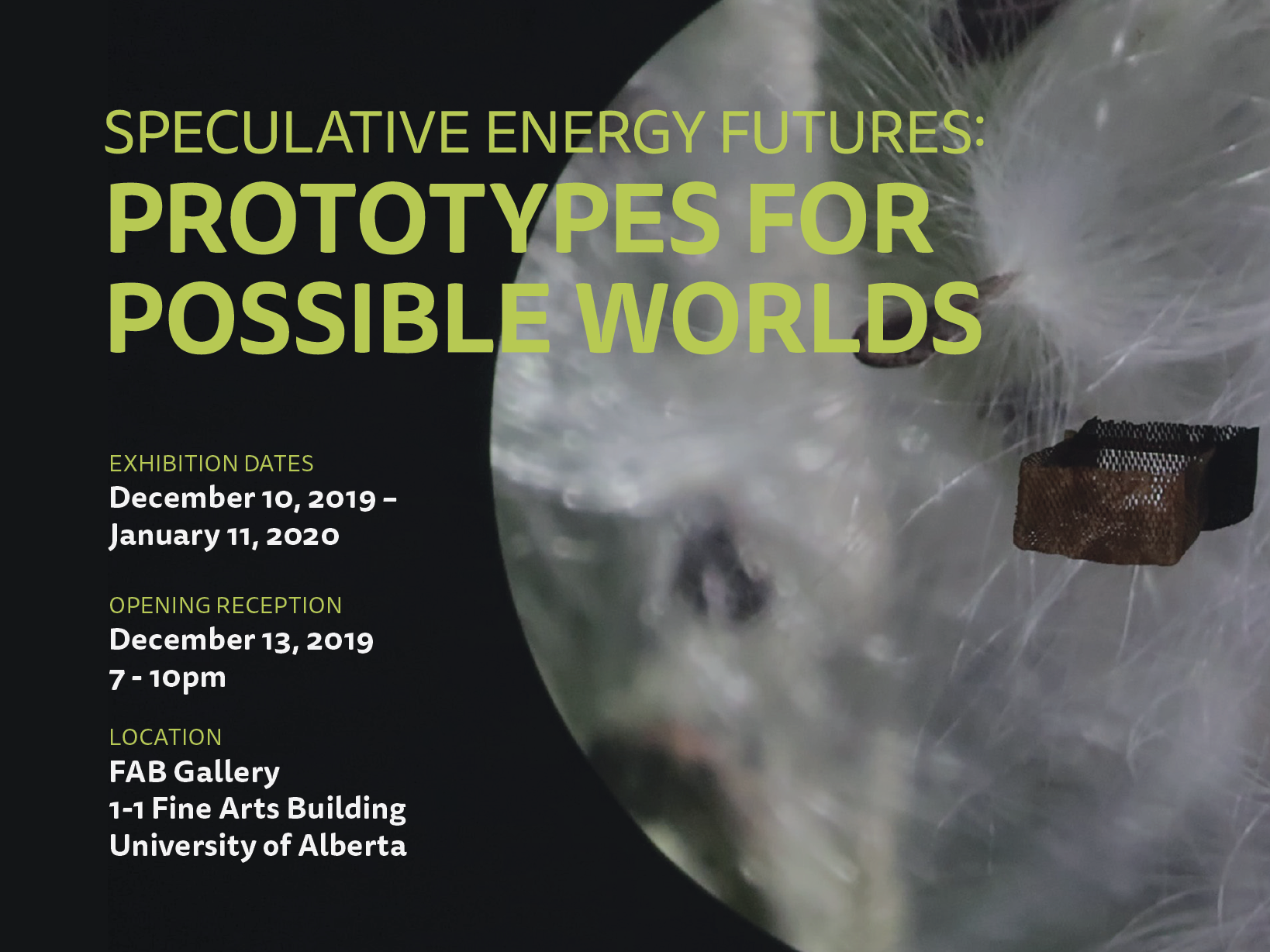 This exhibition showcases interdisciplinary collaborative work produced by the participants of the multi-year research-creation project Speculative Energy Futures. Speculative Energy Futures brings together artists, activists, designers, engineers, scientists, humanists, social scientists, policy makers, Indigenous legal experts and more, to inquire into the complex intersections of climate change and energy transition, as interlocking sites of possibility as we imagine and model a range of potential low-carbon just futures.
Prototypes for Possible Worlds is a proto exploration of where solarities can be formed: where feminist and socially just and multi-species and Indigenous ways of thinking might come together. It is about the synergies and solidarities that we can nurture as we face the daunting challenges of climate change.
. . .
While the exhibition will run in the University of Alberta's FAB Gallery (1-1, Fine Arts Building) from December 10, 2019-January 11, 2020, the reception launch will take place December 13th from 7:00-10:00 p.m. All are welcome to join us for hors d'oeuvres and a brief introductory program, which will begin at 7:30 p.m.
About the Project:
Speculative Energy Futures consists of researchers from across Turtle Island; it is coordinated out of the University of Alberta on Treaty Six Territory, the traditional home of 48 different Indigenous nations (First Nations, Métis and Inuit). The city of Edmonton, where the University of Alberta is situated and where our team has gathered to share its prototype exhibition, is located on lands long ago stolen from Papaschase and Métis peoples who were displaced through means and methods that led to, and ongoingly enact, the loss of culture and lives. We acknowledge our nation's history of genocidal practices and assert that conflict over energy and natural resources have played, and continues to play, a starring role in this history. As we think through ecological, climate and energy justice, the Speculative Energy Futures team understands that there is no social or ecological justice without decolonization and indigenization. An anti-racist, anti-sexist, and anti-speciesist worldview is necessary to combat the extractivist world-view that has contributed to climate change through the exploitation of land and resources, and that has likewise relied upon the exploitation of gendered, classed and racialized bodies, as well as the erasure of knowledge held by those bodies. This is why we argue that feminist and decolonial approaches to energy transition are vital.